The Nova Scotia Youth Wind Ensemble would like to thank the private lesson teachers and coaches who helped so much during the 2020-2021 season. All that we accomplished would not have been possible without their assistance and support.
Flute
Jack Chen
Jack is in demand as a performer, teacher, and clinician in the Maritimes since his arrival in Halifax in 2008.
Jack earned his Bachelor's degree from University of British Columbia studying with Sarah Jackson (Los Angeles Philharmonic) and his Master's degree in flute and early music performance from Indiana University in the studios of Thomas Robertello and Barbara Kallaur. Other mentors include Jeanne Baxtresser, William Bennet, Robert Dick, Patrick Gallois, Bart Kuijken, Robert Langevin, Emmanuel Pahud, and Yong Sun.
Currently on faculty at Acadia University, Jack recently made his solo debut with Symphony Nova Scotia in its Baroque series performing Bach's Orchestral Suite No. 2. Jack also coaches several high-energy flute ensembles throughout HRM and maintains a private teaching studio.
His performing career includes several US tours, and he appeared in 13 PBS television music specials, and on the recent orchestral and cinematic albums "Horizons" (Christopher Nickel), "Dreams of the Forest," "Awakening" and "Unconditional" (Marc Enfroy). Jack has shared the stage and camera with artists such as Amy Grant, Michael Giacchino, Giorgia Fumanti, Tim Janis, Bobby McFerrin, and Doc Severinsen.
E-Mail: iflutist@me.com
---
Christine Feierabend
Born and raised in Oshawa, ON, Christine moved to Halifax in 1989 after being accepted into Symphony Nova Scotia as second flute and piccolo player. She holds a Bachelor of Music in performance from the University of Toronto and a Master's Degree from the Juilliard School in New York. She appears regularly at the Music Room and has played chamber music at the Scotia Festival, the Faculty Series at the Maritime Conservatory of the Performing Arts, the St. Cecilia Summer Concert Series, and the Three Churches Summer Series. Christine has also played as an extra with the Toronto Symphony Orchestra and Hamilton Philharmonic.
Christine has been a member of the National Youth Orchestra of Canada and a fellow of the Tanglewood Festival Orchestra. She lives in Kingswood with husband, Mike, and their two children, Stephen, and Nicola.
---
Siliang Wang
Silang received her Bachelor's degree from the Central Conservatory of Music (Beijing, China) in June 2018.
Siliang studied flute from age six, enrolling in the Middle School of Central Conservatory of Music in 2008 and was the only wind student recommended for admission to the Central Conservatory of Music (University).
In 2009, she won the 3rd Prize in the Beijing International Woodwinds Competition, and in 2012, the Second and Excellent Performance of A Chinese Piece prizes. In 2016, her woodwinds quintet won the WaHaHa Chamber Music scholarship in 2016 and joined the Chamber Music tour.
In Canada, Silang is working towards her Master of Music, flute performance, since September 2019, at the University of British Columbia. She has also played first flute in UBC's symphony orchestra for Rachmaninoff Symphonic Dances, and T. Patrick Carrabre Symphony No.1: War of Angels. She was also principal flute in UBC's symphony winds ensemble.
---
Oboe
Hamish Gordon
An oboe player since 1972, Hamish Gordon has been a member of the Stadacona Band of the Royal Canadian Navy since 2006. Prior to joining the Canadian Armed Forces, he was principle oboe of the Saskatoon Symphony between 1998 and 2002. He toured North America with the Vancouver Wind Trio from 1987-98. He has also played with many of Canada's orchestras from the Victoria Symphony to Symphony Nova Scotia.
E-Mail: hamishgordon58@hotmail.com
---
Suzanne Lemieux
Suzanne holds a Bachelor of Music degree from the University of Ottawa where she studied with Rowland Floyd, and a Master of Music from the University of Michigan where her teacher was Harry Sargous. Other influential teachers include Maurice Bourgue and Richard Killmer.
She is the principal oboe of Symphony Nova Scotia and has been an SNS guest soloist for more than 20 times, delighting audiences with repertoire ranging from baroque to contemporary.
She recorded Telluric Dances, an oboe concerto by Christos Hatzis, and gave the American premiere of this piece at Lincoln Center's Avery Fisher Hall with maestro Alexandros Myrat. She also gave the premiere of Marjan Mozetich's Oboe Concerto with Ottawa's Thirteen Strings and has been a soloist with the Atlantic Sinfonia and the Victoria Symphony.
An active chamber musician, Suzanne has been a guest of the Penderecki String Quartet and the Quatuor Arthur Leblanc and was invited to the Prince Edward County Chamber Music festival in Picton, Ontario. She has played recitals at the National Arts Centre's Fourth Stage and Salon, is a returning guest artist at the Scotia Festival of Music and has participated in the Indian River Festival and New Brunswick Summer Music Festival on several occasions. She has toured with soprano Wendy Nielsen and pianist Robert Kortgaard for Debut Atlantic, and she is a member of Halifax's woodwind quintet, Fifth Wind.
As a guest oboist, Suzanne has performed with the Edmonton Symphony, the Vancouver Symphony, the Montreal Symphony, and the National Arts Centre Orchestra, and she has toured with the Singapore Symphony and Les Violons du Roy. She has commissioned and premiered many pieces by Atlantic composers and enjoys working with non-traditional ensembles.
---
Bassoon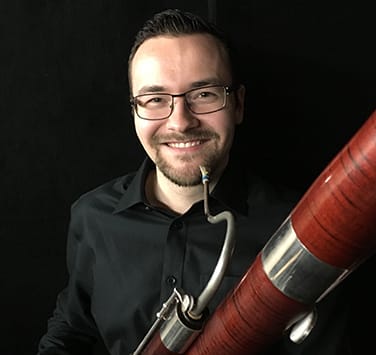 Gabe Azzie
A native of Ottawa, ON, Gabe joined Symphony Nova Scotia as principal bassoon in January 2019. That same spring, he completed his Master's degree at the University of Cincinnati's College-Conservatory of Music, under the tutelage of William Winstead.
Before moving to Cincinnati, he graduated summa cum laude from the University of Ottawa, where he studied with Christopher Millard. During his time in Ottawa, he performed frequently with the National Arts Centre Orchestra, the Ottawa Symphony Orchestra, and the Orchestre symphonique de Gatineau. He was also called upon as a pit musician for Broadway Across Canada's Ottawa performances of Roger and Hammerstein's The Sound of Music.
Gabe has performed with Boris Brott's National Academy Orchestra of Canada, and toured Canada and Portugal with the National Youth Orchestra of Canada, under the batons of Emmanuel Villaume, Michael Francis, and Perry So. Other teachers include Kathleen McLean, Mathieu Harel, Stéphane Levesque, Richard Hoenich, and Jo Ann Simpson.
Outside of music, Gabe is an avid hockey and football fan, and enjoys swimming, travelling, and hiking.
---
Clarinet
Eileen Walsh
Eileen Walsh has played second clarinet and bass clarinet with Symphony Nova Scotia since October 2007. Formerly, the associate principal and E-flat clarinet with the South Bend Symphony, Eileen earned her Master of Music degree and Performer Diploma from Indiana University in the studio of Eli Eban, and her Bachelor's degree at the University of British Columbia in the studio of Wesley Foster.
Eileen's love of chamber music led to the co-founding of the Fifth Wind Woodwind quintet and the Jollimore Trio, and most recently to her joining Rhapsody Quintet. Eileen is currently on faculty at Dalhousie and Acadia Universities, and she lives in Halifax with her husband, flutist Jack Chen, and their two young boys. Other pursuits include performing on period instruments, and a two-year term as Associate Instructor of Music Theory at the Indiana University Jacobs School of Music.
---
Jonathan Wong
Jonathan Wong is a Toronto-based musician and educator. A longtime "band geek", he has played as principal clarinet with groups including the University of Toronto Wind Ensemble, the Denis Wick Canadian Wind Orchestra, and the Toronto Youth Wind Orchestra, in venues from riverboats in Shanghai to New York's Carnegie Hall. Jonathan won the University of Toronto's Winds Concerto Competition in 2018.
---
Saxophone
James Conquer
James is a saxophonist and arts administrator in Toronto. An active performer, he has a wide range of repertoire and diverse experience as a recitalist, soloist, chamber and orchestral musician. James holds a Master of Music from the University of Toronto, where he studied with Wallace Halladay. In 2019, he visited Nova Scotia for the first time, studying at the Lunenburg Academy of Music Performance with Nicole Strum and NSYWE's Tristan De Borba.
---
Trumpet
James LeBlanc
---
Holly Lohnes
Holly grew up along the South Shore, Mahone Bay, where she fell in love with music while singing, playing piano, and playing the trumpet on her own and with other community groups, and playing in many music festivals and organizations.
Holly moved to Wolfville to study music at Acadia University and graduated in 2017 with a Bachelor of Music Degree, focussing on trumpet as her principal instrument. She graduated from Acadia with her Bachelor of Education in 2019, focussing in the secondary stream, with music and math as her teachables.
At Acadia, she performed with the Acadia University Wind Ensemble, Acadia Orchestra, Acadia Symphonic Band and Acadia Jazz Bands.
She continues to perform on trumpet, with groups across Nova Scotia and Canada including Symphony Nova Scotia, Nova Scotia Youth Orchestra, and The Denis Wick Canadian Wind Orchestra.
Holly has widened her love of music, taking an interest in conducting. She started studying with Dr. Mark Hopkins, professor at Acadia University, and works with the Nova Scotia Youth Wind Ensemble.
Holly is now a music teacher in the Halifax area, the Music Director for the Kings Community Concert Band, and also teaches privately.
---
French Horn
Olivia Ester
Olivia a sought-after performer, recording artist, composer/ singer-songwriter, educator, and advocate for the arts in Canada. As a French Horn player, Olivia has performed with many of Canada's finest orchestras (Canadian Opera Company, National Ballet Orchestra, Winnipeg Symphony Orchestra), music festivals (Festival of the Sound, Toronto Jazz Festival, Kensington Market Jazz Festival), and with internationally acclaimed artists such as Adele, Barbra Streisand, Herbie Hancock, David Amram, Rufus Wainwright, Emilie-Claire Barlow, Boy George, David Bryne, Roger Hodgson, Il Divo, The Tenors, Andrea Bocelli, Lang, Michael Buble, Jann Arden, Holly Cole, and Steven Page. You can always catch Olivia in one of many Toronto theatre pits. She has recorded for film, CBC, CTV, Naxos and many independent Canadian labels and artists.
Minha Alma, Meu Coração is Olivia's first and latest vocal/ instrumental music project exploring the music of her Portuguese-Sephardic heritage. Her sound merges contemporary song writing with traditional styles such as the Fado.
---
Amelia Shields
Born and raised in Nova Scotia, Amelia began playing horn at the age of 12. She responded immediately to its rich, deep colour and compositional flexibility.
She has trained with provincial and international music ensembles, and completed her Bachelor of Music at Mount Allison University, NB. In 2015, she received an artist diploma from the Royal Conservatory of Music's prestigious Glenn Gould School. Amelia currently works as a freelance orchestral and chamber musician in Toronto, ON.
Amelia has co-founded two ensembles, the Vox Aeris brass trio, and the Damask Trio, composed of horn, violin, and piano.
Whether touring, freelancing, or teaching, Amelia supports musical communities through outreach activities, local performances, and live audience engagement.
---
Trombone
Shauna DeGruchy
Halifax-based trombonist Shauna DeGruchy Shauna holds an undergraduate degree from Acadia University and a master's degree from Université de Montréal. She has also studied with Joseph Alessi (New York), Alastair Kay (Toronto), and Nicholas Atkinson (Ottawa). She is the trombone and low brass instructor at the Maritime Conservatory of Performing Arts.
She is a founding member and co-artistic director of contemporary chamber ensemble Alkali Collective. She has performed in music festivals throughout Canada, including Sonic Boom (Vancouver), the Montreal Jazz Festival, and Open Waters (Halifax). In Summer 2021, she will attend the Nief-Norf New Music Summer Festival in Knoxville, TN as a performance fellow. Shauna has commissioned and premiered several new works for her instrument. As an emerging composer herself, she is currently writing her first solo EP with electronics.
Shauna frequently performs as a soloist and in collaboration to create and present new music and interdisciplinary works.
---
Rod MacGillivary
Rod MacGillivray is a conductor and low brass musician from Bridgewater, performing on trombone, euphonium, and tuba.
He holds a Bachelor of Music from Mount Allison University, a Masters in Music from Temple University in Philadelphia, and has completed doctoral studies in trombone performance from Ohio State University and graduate studies in wind conducting from the University of Alabama.
In addition to his duties as the music director of the Mersey Band, he is the founder and director of the Nova Scotia Youth Brass Ensemble, and low brass instructor and faculty member of the Conservatory Nova Scotia Association in Halifax.
Rod has taught at the Maritime Conservatory of the Performing Arts, Kenyon College and Mount Vernon Nazarene University in Ohio, was the director of bands at Adams State College in Colorado, and held a one-year appointment as the visiting professor and music director of the Acadia University Wind and Brass Ensembles.
E-Mail: nsmacboy@yahoo.com
---
Bob Nicholson
Bob studied at the University of PEI, the Royal Conservatory of Music in Toronto, the University of Toronto, and the Music Academy of the West in Santa Barbara, CA.
A winner of two East Coast Music Awards with the Jive Kings, Bob enjoys a varied and successful career. He recently completed three years as tubaist with the Calgary-based Foothills Brass Quintet, and now playing tuba and bass trombone with Maritime Brass Quintet.
As an orchestral musician, Bob has performed with the Toronto Symphony Orchestra, Canadian Opera Company Orchestra, Calgary Philharmonic, CBC Toronto Jazz Orchestra and the National Ballet Orchestra, among others.
Theatre orchestra work includes Toronto productions of Beauty and the Beast, Showboat, Crazy for You, Miss Saigon, Les Miserables and five years with The Phantom of the Opera. He performed in the Charlottetown Festival's Anne of Green Gables for 14 summers, as well as numerous other Charlottetown Festival productions.
He currently teaches at Acadia University and Nova Scotia Community College.
E-Mail: lowbrassbob@gmail.com
---
Euphonium and Tuba
Greg Irvine
A native of Nova Scotia, Greg was principal tubaist for the Hamilton Philharmonic Orchestra for 11 years. During that time, he also performed with such ensembles as the Toronto Philharmonic, Toronto Pops, and CJRT Orchestras. He has performed extensively as a tuba soloist, and in chamber ensembles including the Royal Brass of the Hamilton Philharmonic, and the Aeolos Brass Quintet, which toured throughout Canada during the 1980s.
Dr. Irvine has studied his instrument with some of the finest and best-known tuba players in the world, including Charles Daellenbach of the Canadian Brass and the late Arnold Jacobs, legendary tuba player of the Chicago Symphony.
He earned his Bachelor of Music at the University of Toronto. Greg's combined interest in performing and teaching led him to further study in these two areas at Northwestern University, from where he earned both his Master's and Doctor of Music degrees.
Before his retirement from UPEI, Greg's teaching responsibilities in included teaching applied brass, instrumental conducting, brass techniques, and music history. He continues to perform regularly as the tubaist for the P.E.I. Symphony, Symphony Nova Scotia, and Symphony New Brunswick.
---